The Finish Submachine Gun Suomi M/31 by Michael Heidler
Direct from Germany, hard cover book, signed by the author!
The "9.00 konepistooli M / 31", usually just called affectionately "Suomi", is the most well-known Finnish weapon of World War II. It still stands for outstanding quality and precision. And they taught the Russian invaders fear. This book will give an insight into the history of this extraordinary weapon, from its development via the manufacturing through to its use in Winter War (1939 – 1940), Continuation War (1941 – 1944) and finally in Lapland War (1944 – 1945). It also describes the lesser known variations like the bunker- and tank-Suomi, the magazines and the accessories. The majority of the wartime photos used in this book were never published. English and German language in the same book. 96 pages with 270 illustrations. $42
US Army Browning 50 Cal Manual, 1968, print date on last page states 1970, over 200 pages, new $14.00
BREN Mk 3 Manual. Original, Irish, Gaelic language. Your choice of new or some are slightly used with ink stamp on cover(see photo). $25 each, only 12 in stock.
British Sterling Manual. Original government produced military manual. 69 pages, numerous diagrams and photos. 7 here, vary rare. $40
Sten SMG Manual. Carbine Machine Sten 9mm. Mk.II. Reprint of manual dated Feb. 1942. 16 pages, text and pictures with descriptions of guns parts. Covers stripping, operation, assembly and disassembly. $5.00
British L1A1 Manual. Original government produced military manual. 101 pages, numerous photos, diagrams and foldout. Rare collectible, only 8 here. $35
The FAL Rifle
Deluxe Classic Edition, 1993 $Out of stock
848 pages, 844 illustrations
Our first purpose-printed, Library-quality upgrade of this material. Contains every word originally published in the 3-volume FAL Series, under the following titles:
North American FALs
NATO's Search for a Standard Rifle
By R Blake Stavens (1979)
The development of the now-defunct Canadian Arsenals Limited (CAL) inch-measurement C1 and C2 rifles (later modified to C1A1 and C2A1 configuration) and the short-lived US T48, as made by FN and two old-line US gun companies, (both also now defunct), High Standard and H&R. Notes on all models, accessories, ammunition.
UK & Commonwealth FALS
Volume Two of the FAL Series
by R Blake Stevens (1980)
The story of the L1A1, the "other" inch-measurement FAL, as developed jointly by Britian and Australia with Canadian Arsenals Limited (CAL) as overall Design Authority. Extensive coverage of UK/Belgian/Canadian intermediate cartridge developments. Illustrates and describes many interesting rifle variations and numerous accessories.
The Metric FAL-the Free World's Right Arm
by R Blake Stevens and Jean Van Rutten (1981)
From prototype No 1 (in 7.92x33mm kurz calibre) to the latest PARA, HBAR (FALO) and LAR, this is the complete story of the FAL rifle as manufactured (under the metric system) by Belgium's famous Fabrique Nationale Herstal (FN) and Fn's liscensed (Metric) producers around the world. Contains priceless archieval material on all FAL prototypes plus other experimentals, accessories, and cortridge development. The FAL Rifle concludes with the comprehensive Fal Series Index to all 3 volumes.
More on the Fabled FAL—A Companion to The FAL RIFLE $54

by R Blake Stevens

Deluxe First Edition, 2011, 272 pages, 343 illustrations

This book is intended as a companion to the recently reprinted three volume omnibus title The FAL Rifle, which comprises our original studies titled North American FALs (1979), UK and Commonwealth FALs (1980), and The Metric FAL (1981).

The book begins with a historical retrospective on the 50 FAL prototypes, with new information on ordered FAL models as produced by Fabrique Nationale (FN).

An in-depth high-echelon workshop repair manual for the FAL rifle, titled Manuel de réparation et d'entretien du FAL (Manual of Repair and Maintenance [Procedures] for the FAL Rifle), under the general FN classification OREA (Outillage de Réparation et Entretien d'Arme (Tools for the Repair and Maintenance of Arms), was produced but never published by FN. A complete English translation of this manual occupies the central ten chapters of this new book. Very logically laid out with an illustrated breakdown of all the parts within each component group, the manual first establishes a set of inspection standards, and then follows up with detailed repair and replacement procedures for each component, including unbreeching and breeching the barrel. The recommended specialist tools are depicted and named, and their purpose(s) are fully described and illustrated.

Next we revisit the story of how the FAL was redimensioned and redrawn for production in non metric countries, beginning with new material on the interesting prototypes produced by Canadian Arsenals Ltd (CAL), the arbiter of the inch measurement conversion programme. More new material follows on the Rifle Steering Committee, which originally comprised members from Canada, Britain and the United States, and later, after the US had dropped out and unilaterally adopted the M14 rifle, Australia. Information from various sources and new photographs of the US T48, which was considered by many as the logical replacement for the M1 rifle, are included.

The book concludes with an authoritative retrospective on metric and Imperial barrel threads, barrel interchangeability, and official rebreeching instructions for the Canadian C1/C1A1 and British L1A1; an illustration of the latest investment cast FAL components—including the new "Type 4" receiver—and a Bibliography.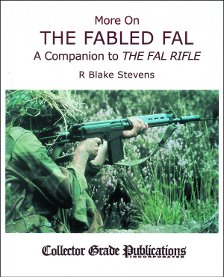 User manual for SUIT/Trilux scope. Illustrations and text covering operation and parts description of the scope with mount. Photo copy of original. $3.00
Small Arms Identification Series #12, 7.62 mm L1 and C1 FAL Rifles, by Ian Skennerton. 48 pages, parts identification and lists, L1A1 and C1 series notes, exploded parts drawings, descriptions, accessories & fittings. New $8.00
Gunplumber's guide to FN FAL Home Gunsmithing, by Arizona Response Systems

Covers all aspects of building a FAL with your receiver and FAL parts kit. Includes tools, selecting and preparing parts; barreling and timing; adjusting headspace; tuning gas system for optimal performance; customizing; complete disassembly & reassembly, function testing and troubleshooting. Covers Inch, Metric, Israeli and Indian models. Shows the professional gunsmith how to build a rifle using the advanced tooling of a fully equipped machine shop, and also shows the home hobby gunsmith how to build a rifle with simple hand tools. 2 Volume digitally produced and edited high-density DVD Discs (over 5 hours). Workbook compliments DVD with technical specifications, home-made tool drawings, vendor listings, schematics, and much more. 250 pages.

DVDs and Workbook $65

DVDs alone, $33.00

Workbook alone, $33.00
Original Colt Model O Armorer's Manual for 1911 Pistols. 52 pages, text and illustrations. Includes disassembly, assembly, general parts fitting, maintenance. New $8.00