Smith Enterprise Vortex Flash Eliminator
Now available, the highest rated flash eliminator is here at GunThings!
Click here to see the videos and news updates of this incredible flash hider in action:
Click for Smith Enterprises Vortex Flash Hider Video 1
Click for Smith Enterprises Vortex Flash Hider Video 2
Heat treated steel, parkerized, patented design. Compatible with SEI Direct Connect (DC) Sound Suppressor.
For FAL $70 each, For AR-15, M4, M16 $50 each.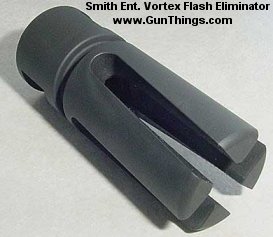 Gas piston, metric, original
$5
Gas piston, original Stg-58 Austrian with internal threaded end, metric, excellent **only a few
$10
Gas piston spring
$5
Gas Block, original metric FAL light barrel standard gas block with solid ears, very good condition Retaining pin is $3 extra.
$65
Gas Block, original Israeli heavy barrel gas block, new. Gas block pin is $3 extra. Email for a quantity price quote, approx 190 in stock.
$50
Gas Block, original Belgian heavy barrel, new. Pin $3 extra.
$155
Gas Block, original Belgian early gas block for standard barrel, uses short gas plug (Israeli will work, they are in stock for $20 new). These gas blocks would be perfect for an Israeli light barrel build. Gas block pin $3 extra.
$150
Gas Block, FNFAL X8E2 trials rifle gas block. Offset sight post, single ear. Original from 1954 and extremely rare. New, includes sight post. Only 2 in stock. Pin $3 extra.
$230
Gas block retaining pin, new. Specify if for standard light barrel or heavy barrel. Diameter is the same, HB is longer.
$3
Gas plug, metric FAL, original (not US made), limited quantity
$36
Gas plug, for FN49 rifle (not FAL), like new *only two in stock
$20
Gas regulator, original Belgian
$18
Gas regulator spring
$4
Gas tube, original military chrome lined gas tube, new
$28
Gas tube nut, screws into upper receiver, holds rear of gas tube and carry handle, original, new
$14
Handguard, walnut, Belgian FALO, heavy barrel. **only 2 in stock
$210
Handguards, synthetic, bipod cut, made in USA by DSA with screw, new
$50
Handguards, synthetic, bipod cut, made by Imbel in Brazil, without screw, used, cracked or chips in plastic, usable as/is or repairable, per pair
$20
Handguard, left side only (cocking handle side), non - bipod cut, South African, good condition ***only a few here

***If you have any South African right sides to sell or trade, please call or email!!!
$35
Handguards, synthetic, non-bipod cut, with screw, good condition. Limited quantity.
$75
FNC handguards, pair, left and right, new. Can be adapted to FNFAL. **only a few pair in stock
$130
Handguard retaining ring for standard barrel
$15
Sight post, for FNFAL metric gas block, fit Imbels, South African, Austrian, FN, etc. Available in 4 heights. Height is identified by the number of dots on the sight. Tallest is 4 dots, shortest is no dot or one dot. Most guns use a 2 dot or 3 dot post.
$28
Sight post, fits Israeli and high gas block Argentine models (does not fit standard metric gas block), new Sizes 3, 4, 5 are in stock. Uses special spring for $3. No detent plate required.
$8
Sight post spring for metric FAL
$5
Sight post fixing plate/detent plate for metric FAL
$6
Sling swivel screw, for barrel/front swivel, new
$3